Thierry has started as a Business Developer at Lambda-X since 2017. He started working at Verhaert in 2015, promoting innovation with optics and looking for projects in Wallonia. Presently at Lambda-X, he's deploying the company sales strategy in 2 key sectors: Medtech & Life Sciences and Process and Quality Controls in the industry. He thus contributes to growing the global business of Lambda-X and the Verhaert Group. 
Tell us about a recent project you worked on and your contribution to its success.
I'd like to mention an innovative start-up company whose business proposition is quantifying biochemical activity on food or chemical products in production lines. An optics-based reader (interference based) is part of their offering for use at-line in bakeries, breweries, or detergent factories. This company had initially developed its 1st prototype with another partner over the past 2-3 years that was lacking reliability and reproducibility. The company was thus looking for a short-term alternative to improve its reader's robustness and establish reliable recurrent manufacturing. As time is of the essence for start-ups, they were strongly requesting fast prototyping. We managed this in 2 phases. Within an initial 2 months exploration phase, the existing reader design was analyzed and 10 features to improve were identified. A contract was then signed for implementing a new robust design, and to manufacture 5 units. 4 months later, the 1st prototype was out for qualification. And within the next 4 months, the 4 other units were delivered, all identical in performance and within specs, at a particular time when tough supply-chain constraints were faced (shortage of electronic components supplies). Now we are 2 steps further ahead, Design-To-Cost and industrialization, intending to manufacture a new batch of 10 units to expand our customer's business line and fuel their growth. Being fast and reactive, earning trust in co-creative discussions, and implementing a de-risking approach on budget and time-to-market were key to winning the trust of that customer.
Share an experience when you applied a new approach to your job.
It's about strategic marketing. The healthcare market is extremely large (several 100bil€ yearly) and quite complex to understand and segment. However, the role of optics is central in the MedTech and Life Sciences sectors and acts as a strong innovation driver, thus a clear business opportunity for Lambda-X. We managed to refine our positioning through an internal product-market fit exercise to get a better understanding of where to look for opportunities. For customers that would benefit from custom optical designs to differentiate their products and address new biomanufacturing control functions or realize new diagnostics.  
What motivates you in your work?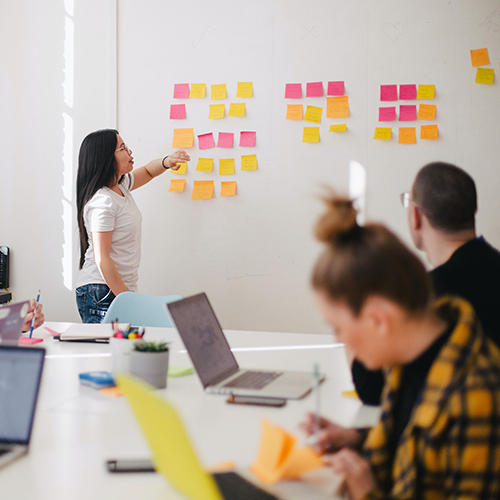 Creativity has always been a driver all throughout my career, both in technology at the beginning (as a Ph.D. student and then as a process engineer), and afterward in marketing and sales. A good working day often starts with 1 or 2 new ideas (popping up from the time I get up or under the shower), a kind of natural process. Another great source of motivation is interacting with people, both internally with colleagues and in the field with customers and partners.
The most efficient way to make innovative ideas meet an application and serve a need. In such a process, the creative energy from different personalities, experiences, and motivations often leads to something unique, which is sometimes just magic and amazingly fruitful. And that is fun!