Quality & Process Control
Regardless of the industrial sector, for the manufacturing of any product, good precision and efficiency are required in monitoring the production process. To ensure items conformity, quality control is an indispensable step in the production flow.
Implementation of optics in quality control
The contribution of optical systems to quality control operations is obvious when you consider the key attributes of optics : fast, sensitive, non-contact, non-destructive, non-invasive and easy to automate. Optical measuring instruments therefore provide unrivalled time savings, productivity and accuracy.
Optics offers a wide range of metrology possibilities to measure an infinity of materials (regardless of its state: solid, liquid, gas, plasma) and associated properties (physical, chemical and biological). Historically, over the last two centuries, optics has spread through a large variety of technologies and companies giving birth to millions of instruments. Still, the optical sub-system or instrument matching a dedicated measurement and a particular environment is yet to be developed and built. This is the power of optics.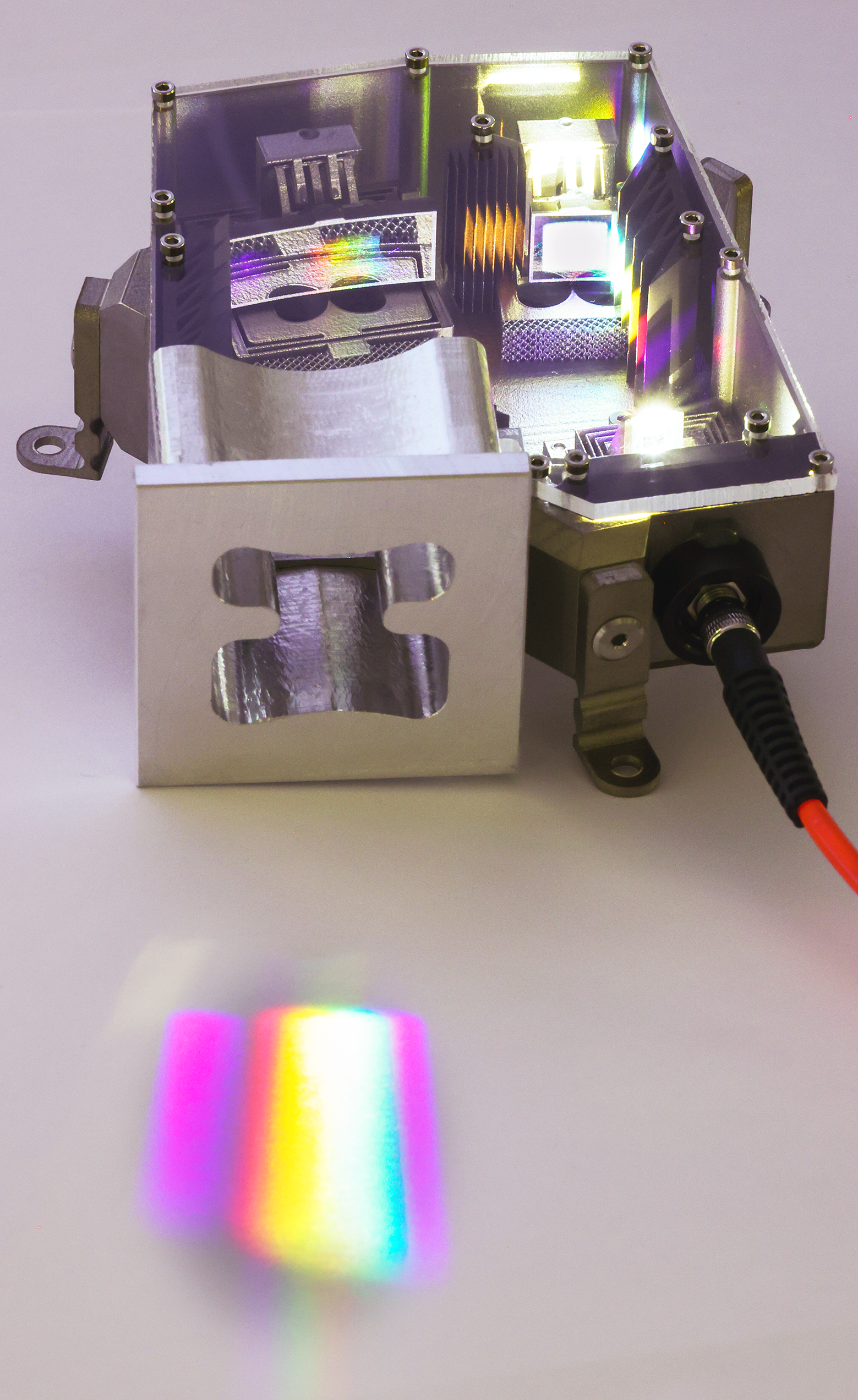 Lambda-X expertise in optics
Through the years, Lambda-X has developed and built a number of unique optical systems leveraging on different optical technologies, such as :
Spectrometry over a wide spectral range (UV, visible, NIR, SWIR, MIR) using different sources, detectors and materials. At a given wavelength, a specific light-matter interaction will occur (Raman diffusion, fluorescence) that spectrometry will quantify. Combined with image sensors and cameras, additional applications such as 1D, 2D spectral imaging and hyperspectral imaging are addressed.
Microscopy: phase contrast, differential interference contrast (DIC), confocal, functional microscopy (combined with spectroscopy ), etc…
Interferometry: Michelson, Fabry-Perot, Mach-Zender, common beam, …
Imaging techniques combined with interferometry: Optical Coherence Tomography, holography, shearography, deflectometry
Light scattering and light diffusion: Dynamic Light scattering (DLS), Diffusion Wave Spectroscopy (DWS)
Time-Of Flight
Others…
Markets and services
When applying those optical techniques on various materials, a very large number of Process and Quality control applications can be served. Based on its experience, Lambda-X can group most of Process and QC applications into 3 major domains:
shape & geometry control,
material characterization,
imaging & defects monitoring.
Today Lambda-X provides custom optical systems for basically any new application in all of the above listed groups. But our services go far beyond simple development. From the identification of the requirements to the serial production of the final product, Lambda-X aims to be the trusted partner for a better process and quality control.
Contract manufacturing
based on customer designs
Cleanroom facility
650 sq. m. certified ISO7 with local areas in ISO 5
High precision tooling for various assemblies
Optics alignment & assembly (mechanical, gluing …)
Metrology for optical components & systems quality control
Wavefront measurements, MTF, interferometric bench, cosmetic & photometric controls
Support customer products evolution
Optical & opto-mechanical design, electronics, software development, EMC testing & certification
Discover
our other markets
Lambda-X creates and manufactures optical systems for space, security, industrial and medical applications.
Get in touch
Interested in our optical engineering services for quality control applications ? Get in touch with Thierry for your industrial innovation, we're looking forward to helping you.