Technology Discovery: Unleashing Potential
Optical technologies are essential drivers of groundbreaking advancements in today's world. By integrating them, you can overcome challenges and discover untapped opportunities.
Our team is dedicated to helping you identify the perfect blend of technologies and strategies, ensuring your innovation initiatives reach their full potential.
With our support, your process equipment will stand out and make a lasting impression in the market and your manufacturing flow, through the power of optical innovations.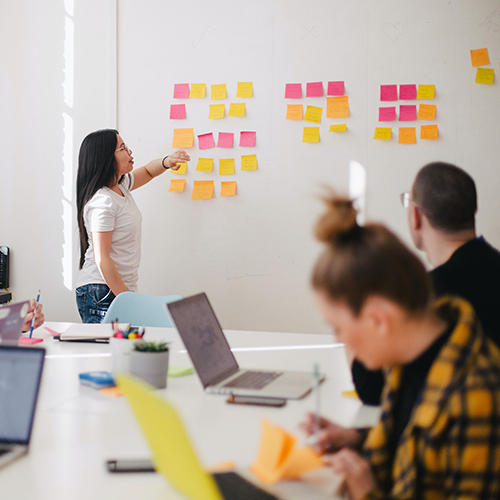 Collaborative Innovation & Risk Management
Every product and technology development journey comes with its own unique set of risks. At Lambda-X, we take a proactive approach to understanding these risks at the earliest stages and develop tailored strategies to address and mitigate them.
Working in a cutting-edge R&D environment, we emphasize the importance of managing technology risk as a critical aspect of our operations.
By thoroughly evaluating risk factors from the initial concept stage, we consider aspects such as expected functionality, user experience, cost, and timeframes to ensure a smooth development process.
Our extensive expertise in optics will give you a competitive edge by speeding up your time to market.
Concept Exploration: Cultivating Innovation
The key to generating innovative ideas lies in fostering an environment that encourages creativity and collaboration.
We work hand-in-hand with stakeholders, and co-create with our customers, to explore a wide range of technology options, going beyond established solutions to uncover new, groundbreaking concepts.
This comprehensive approach enables us to pinpoint the ideal concept while minimizing technical and financial risks throughout the project.
A Methodical Approach for Success
We believe in clear and effective communication during the concept exploration phase. To achieve this, we utilize tools such as morphological maps and trade-off tables to convey our ideas and thought processes.
By incorporating our field experience, we continuously refine customer requirements, ensuring we identify and address the most critical functions and components necessary for a successful project outcome.
Maximizing Innovation Potential:

A Holistic Approach
To fully unlock your project's innovation potential, it is essential to consider three key aspects: technological, business, and human. By taking an integrated approach and addressing the viability, feasibility, and desirability of your project, you can successfully reach the 'Sweet Spot of Innovation.'
Technological Aspect: Ensuring Feasibility
When assessing the technological aspect of your project, focus on its feasibility. We investigate whether the technology needed to bring your innovative idea to life is readily available, adaptable, or can be developed within reasonable constraints. This requires evaluating factors such as technical challenges, resources, and compatibility with existing systems.
Business Aspect: Establishing Viability
The business aspect of your project revolves around its viability. It's crucial to determine whether the innovative idea can generate a sustainable and profitable business model. This involves analyzing market potential, competitive landscape, target audience, and financial projections to ensure a return on investment.
Human Aspect: Emphasizing Desirability
Lastly, the human aspect of your project addresses its desirability. To truly make an impact, your innovation must resonate with end-users and meet their needs and preferences. Engage in user research, empathize with your target audience, and collect feedback to shape a solution that will genuinely appeal to and satisfy your customers.

Reaching the 'Sweet Spot of Innovation'
By simultaneously addressing the technological, business, and human aspects of your project, you can create a well-rounded, innovative solution that has the potential to thrive in the market. This holistic approach ensures that your project is not only feasible and viable but also desirable, ultimately guiding you to the 'Sweet Spot of Innovation' and setting your project up for success.
Get in touch
Are you seeking optical engineering services for industrial or space applications? Reach out to our team to fuel your industrial innovation – we're eager to assist you on your journey.