EPIC Online Technology Meeting – Bio-Imaging
Discover Lambda-X experience and use cases with Thierry Emeraud, Business Development Director
Optical systems helping the medical sector
Did you know that Lambda-X develops systems providing new and innovative devices for healthcare and life sciences applications?
Last month, our Business Development Director Thierry Emeraud took the mic at the EPIC Online Technology Meeting. The session addressed the challenges and innovation in Bio-imaging.
Thierry brilliantly presented the contribution Lambda-X brought to many projects in life sciences applications.
ReThinking NewSpace webinar
Earth observation is clearly becoming an appealing tool to get high-quality data and information for services on Earth. How can we solve current challenges in micro- and nanosatellite optical system development? And how can AI automate data processing and cost-efficient solutions?
Together with Verhaert, VITO and Aerospacelab, Lambda-X hosted a webinar to discuss the following topics:
How Aerospacelab helps industries with small multispectral satellites that will generate recurring high-quality data?
What the opportunities of in orbit calibration are to monitor and adjust optical payload?
How optical design can preserve image quality in micro-and nanosatellites?
How can AI automate data processing and create cost-efficient solutions?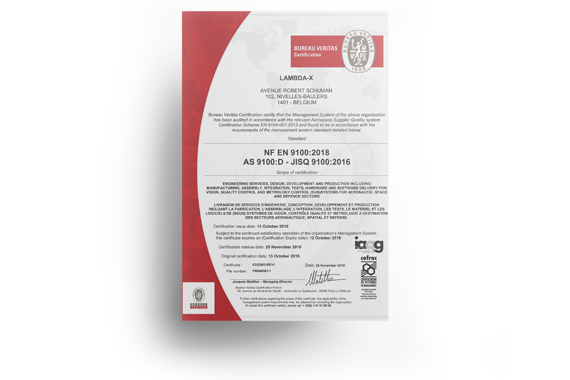 EN 9100:2018 certificate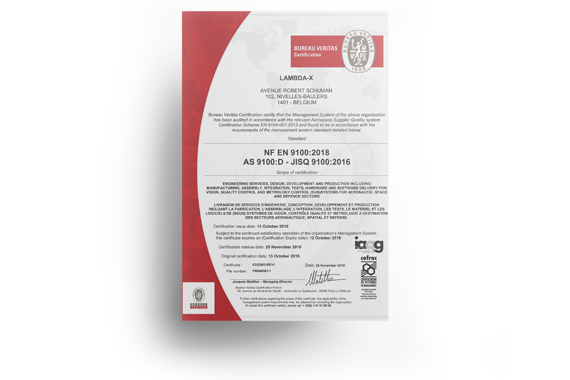 ISO 9001:2015 certificate
Brochure 'Optical systems for Space activities'