Industry
When optimizing processes, quality control is key. The industrial sector is requiring innovative and customized solutions for process and quality control. In order to achieve a better monitoring of the production, improve product quality and manufacturing yields while reducing costs.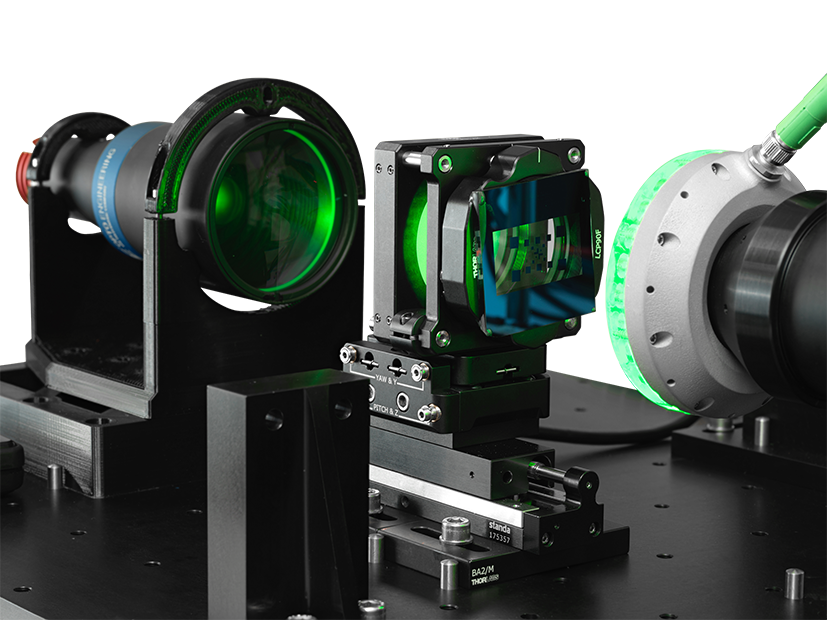 Automation of controls in industry
Human visual inspection is still quite common in the industry. But it faces natural limitations in terms of measurement frequency, accuracy, and repeatability (observers' deviations). In addition, the control, when performed by a human agent requires subsequent documentation and interpretation by the worker. This may influence the relevance of the results. An efficient way to improve process and quality control is therefore by automating the metrology.
Nowadays, there is a clear trend towards more frequent control measurements and higher statistics in manufacturing, as enabled by automation and data analytics. Powerful techniques such as Image processing and Artificial Intelligence help build value from volume data but everything starts with a reliable measurement as can be achieved by a well-designed and reliable optical system.
Lambda-X custom solutions
Lambda-X helps fulfilling the quality and process control requirements of its customers with optical functions and systems. The goal is not only to achieve a good measurement but also to best fit with the production environment, whether it is a process equipment or a manufacturing line. Various QC demands ranging from off-line ("in the lab") measurement to real-time automated on-line or in-line measurements can be addressed with optical systems. It is also beneficial to avoid sending a sample to the lab and save time with a dedicated instrument capable of performing controls next to the production line ("at-line"). This is how Lambda-X can help with innovative optical solutions.
We cover quality and process control for a wide range of applications such as :
Shape control,
Geometry control,
Material quality monitoring,
Real-time image reading & processing (ex: digicode),
Defects detection and classification, etc
Our solutions expand in multiple industry segments: glass products manufacturing, aeronautics, pharmaceutical manufacturing, machining centers, processing and metrology equipment, etc…
Our strength lies in creating innovative concepts based on optics and rapid prototyping whatever the application and environmental context. We contribute to our customers' value creation by accelerating their product development and improving the necessary controls. Moreover, once a new optical system is developed, we can industrialize and reproduce it in tens to thousands of units thanks to our OEM manufacturing services, our infrastructure (clean room) and quality system (EN 9100).
Contract manufacturing
based on customer designs
Cleanroom facility
650 sq. m. certified ISO7 with local areas in ISO 5
High precision tooling for various assemblies
Optics alignment & assembly (mechanical, gluing …)
Metrology for optical components & systems quality control
Wavefront measurements, MTF, interferometric bench, cosmetic & photometric controls
Support customer products evolution
Optical & opto-mechanical design, electronics, software development, EMC testing & certification
Discover
our other markets
Lambda-X creates and manufactures optical systems for space, security, industrial and medical applications.
Get in touch
Interested in our optical engineering services for industrial applications? Get in touch with Thierry for your industrial innovation, we're looking forward to helping you.